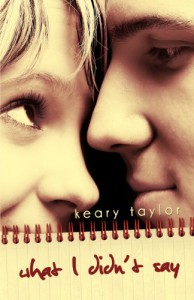 What I Didn't Say by Keary Taylor
Series: Stand Alone
Genre: Contemporary Romance
Age Group: Young Adult
Release Date: April 30th 2012
Print Length: 336 Pages
Format: Kindle
Source: Purchased
Review Date: July 10th 2013
Cover Rating: 4 Stars
Steam Rating: Mild (YA)
Overall Rating: 4.5 Stars
Review:
I absolutely LOVED this book!
When I first saw it on Amazon, I read the synopsis and thought—this is definitely something I'd like. And I was wrong. I didn't
like
it, I
loved
it!!!
I'm definitely a sucker for emotional reads, and Jake and Samantha's story was just that. Highly emotional. But it was also heartwarming, and inspiring. It is the kind of read that makes you grateful for the life you have, and also makes you want to be a better person. It is a perfect YA read, that I would recommend to anyone. And although it is labeled YA, adults will definitely enjoy it too.
Jake is injured in a car wreck, leaving him mute. He has loved Samantha for awhile now but hasn't had the guts to tell her. Actually, he hasn't even told her he likes her, lol. But what starts out as a cute crush becomes something much more after Jake becomes mute. She helps him find perspective, and pulls him out of the darkness when his disability emotionally cripples him. Samantha has some really sad issues of her own, so in fact they help pull each other out of the dark. It is so sad, but so beautiful too. I really did come to love both of the characters.
So if you are looking for a YA read, this should be at the top of your list.
I highly recommend it!!!~StacyHgg
Books Unhinged Book Blog